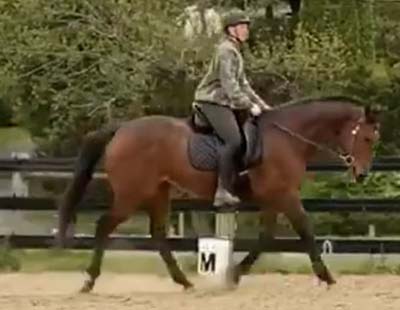 Miss Brownie is a great addition to our OTTB collection.  She is very sweet and sensitive and especially attentive as she cruises her way through her rehab process to find her new happy long term body.  She couldn't be doing all this without her very special sponsor CeCe and we can't wait to see this pair grow and accomplish so much!  Happily Sponsored, Adoption status pending!
Bud is one of PFF's tried and true schoolmasters.  He gives whatever you ask of him from taking care of little for a pony ride to rocking the hunter course!  Bud has 3 lovely gaits and enjoys using them in the dressage ring and for seat lessons.  Hold your horses though this big guy only available for half sponsor.  We aren't letting him go that easy.  Partial/Half Sponsorship Available.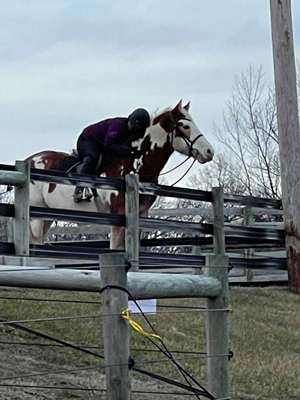 "Gryff" is handsome Quarter Horse gelding who makes any rider look like a natural.  Happily Sponsored, Adoption status Pending!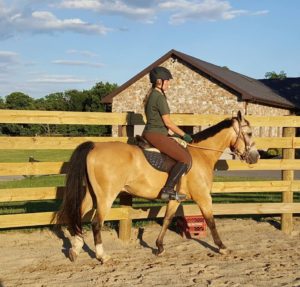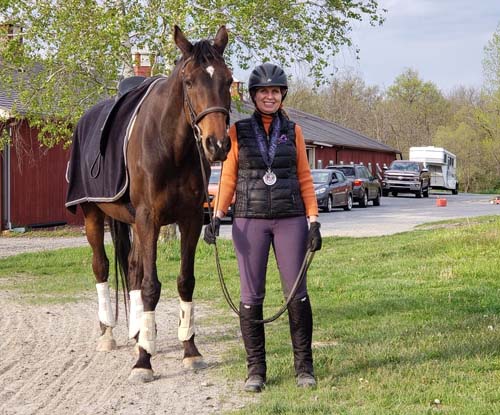 Popular with intermediate riders, James is a talented jumper who came to us green.  Alongside his enthusiasm for clearing fences, this Thoroughbred gelding enjoys participating in our summer camp programs and is an avid part of our lesson program.  Happily Half Sponsored.
Jackie Be Dunn Red "Honey"
Honey was donated from Southern Florida to the foundation this past winter and is thriving in her new quite cooler way of life.  She is everything your looking for in a horse.  She has the looks, the talent and the personality to make anyone a fantastic addition to their family.  Whether you are looking for a new schooling, show or trail horse, Honey is the one for you!  Happily Half Sponsored,  Adoption status Pending!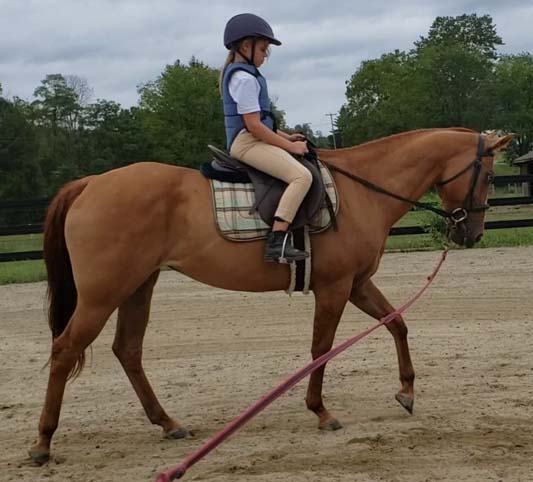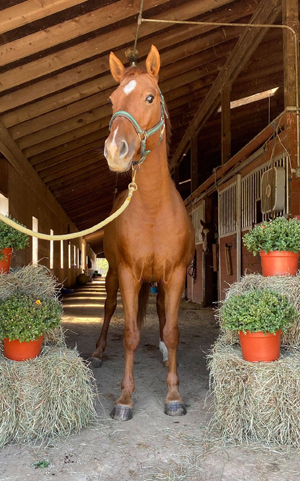 Jack came to us last summer with 2 others from a large Humane Society horse seizure from Texas.  He is one of the friendliest guys you will ever meet.  Still a bit green under saddle due to some major physical changes that come with rescue territory.  He is currently spending some time acclimating a pasture mate.  Jack is available for adoption to the right home, we are looking for that someone special for Jack to make his permanent "three's company" family.  Partial/Half Sponsorship, Full Sponsorship and Adoption Available.
This gorgeous Thoroughbred/Andalusian X came to PFF in Spring of 2015 by way of an at-risk auction. Currently in training, LuLu has excellent conformation and has shown loads of potential in the hunter/jumper discipline while working with her sponsor family. Learn more about this flashy mare on our Adoptable Horses page. Happily Sponsored.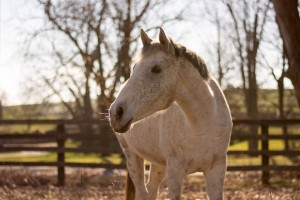 One of our founding horses, Monte is an OTTB who excels in his career as a school master lesson horse. Partial sponsorship available.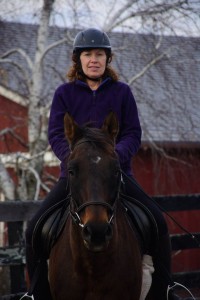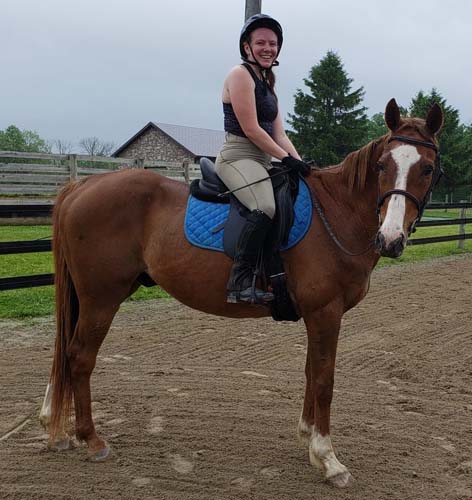 One of the sweetest OTTB geldings we have received to date!  Wish PFF could have had this guy 10 years ago!  Nat is so easy going and a wonderful student as he learns the ropes of a lesson horse.  He willing walk, trot, canters and small fences with ease.  Loves the trails and just hanging our being someone's best friend.  This guy is super cute with no spook!  Get him while you can.  Partial/Half sponsorship, adoption available.
The gentlest of mustangs, Puck is our go-to horse for little riders. He never misses a beat in our community programs. This handy pony is looking for a family to call his own. To read more about Puck, check out our Adoptable Horses page. Partial/half, full sponsorships and On-Site adoption available.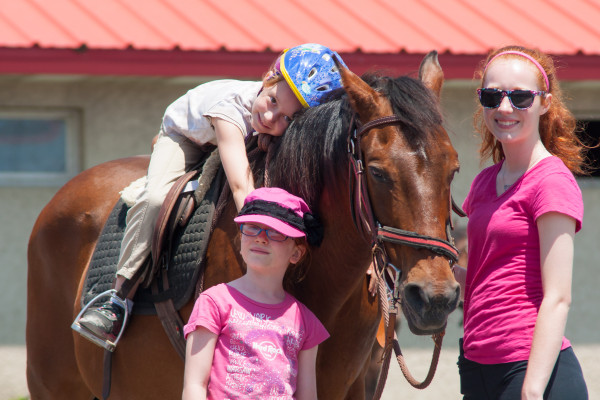 R&R Sterlings Magnum "PI"
PI has been a blessing for our organization.  Donated when he was 18 months and immediately loving sponsored by the President of our organization (although her grandson will you otherwise) PI was immediately accepted into the PFF family.  He had become a wonderful student learning all the disciplines a little at a time and enjoys his job immensely as well as stopping the crow with his looks and agility.  Our junior instructors and trainers have been doing an amazing job brining this boy up the levels to represent PFF anyway and anywhere he can!  We love you "Baby Cow".  Happily Sponsored.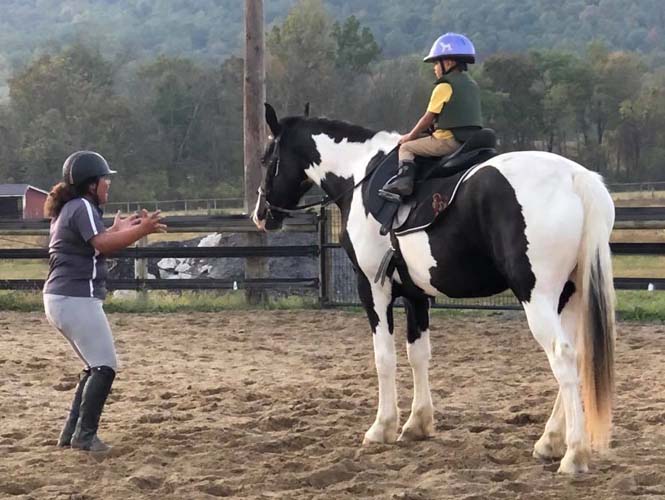 This sensitive Appendix gelding joined PFF in 2011. More than anything, Truper loves to spend his time surrounded by children. Truper is avid in every aspect of our programs, from out lesson program through WHOA, LLC to RtR, our Veterans Program.  Partial/Half, Full Sponsorship available. 
An integral part of operations at Prairie Fire Farms, Earl, BB & Billy are a family of feisty miniature horses who are a favorite with visitors. The minis are a great way for visitors to get introduced to equines, since they are less intimidating then our larger equines. You will often find our minis at community events, where they serve as ambassadors for the foundation. Sponsorships Available.